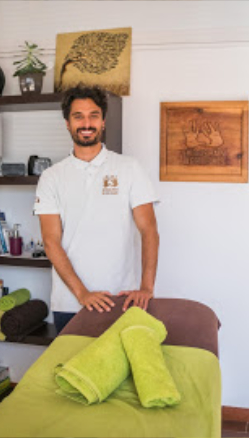 Mauro Gatto
Mauro Gatto is an integrative therapeutical massage therapist specialising in pain-relieving therapies. If you're experiencing physical pain and you want fast relief, Mauro will see that you're in good hands.
"Born and raised in Milan, I began my journey as a therapist over 15 years ago, collecting knowledge and experience by first working for a 5 star hotel and then moving to a more specialised clinic. At the end of 2016, I left the city, followed my passion for surf and nature, and found paradise here in Aljezur where I've been working as a therapist ever since."
Mauro is the successor and now owner of the well-known and well-trusted Em Boas Maos brand, built by Pedro Barata. Pedro and Mauro met in 2017 and quickly became friends. When Pedro decided that he wanted to start a new chapter of his life, seeing something he liked in Mauro, he chose and trained him to be his successor.